Wyoming is something of an enigma. Despite being the tenth largest state in America, it holds the distinction of being the least populous. For rockhounds, this makes the state appealing. The small population of Wyoming means that its gems and minerals remain relatively untouched, even after decades of collectors visiting the state. This is what makes it an absolute must-visit for any dedicated rockhound.
Jade has long been the official gemstone of Wyoming. However, it's not the only rock that you can expect to find in the state. Wyoming rockhounds often report uncovering jasper, agate, quartz crystal, and more. The state is also famous for its fossils. In this article we'll review the best places in the state to go rockhounding and we'll also review the state's rockhounding laws.
Laws
Rockhounding is governed by some strict laws. Some of these laws vary from state to state, so you should familiarize yourself with the specific laws of any state that you plan on visiting.
On public land managed by the Bureau of Land Management (BLM) your collections are limited to 25 pounds per day or 250 pounds per year. Rocks discovered must be kept in your personal collection. Selling your finds for financial gain is prohibited.
In Wyoming, rockhounding laws are a little more lax than they are in many other states. This is partly what has made it such a popular destination among rock collectors. The great allure of Wyoming is that more than 50% of the state consists of public land. You are more or less free to rockhound on this immense spread of land as long as you abide by the regulations put forth by the BLM.
You can avoid restrictions by rockhounding exclusively on private property. However, you will need to obtain the permission of the property owner, preferably in writing.
Best Spots
The five spots listed below will give you the best chances for success.
Medicine Bow Mountains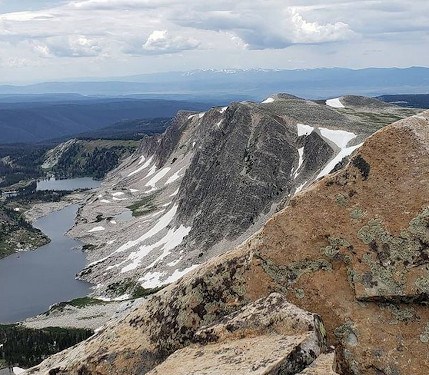 The Medicine Bow Mountains are located in Albany County, Wyoming. They are popular among hikers, photographers, tourists, and, of course, rockhounds. The mountains' popularity with rockhounds stems from the wide variety of gems and minerals which can be found here. While many areas only offer one or two rocks, the Medicine Bow Mountains boast beryl, galena, slate, sperrylite, and more. Rockhounds have also reported finding fossils in the mountains, many of which were laying plainly on its surface.
On a few occasions, we have heard stories of rockhounds uncovering meteorites in the Medicine Bow Mountains. This would make the mountain range one of several spots throughout Albany County where meteorites have been found. However meteorites are extremely rare. Even expert rockhounds will have difficulty tracking them down, so you may want to focus your search on the more common rocks of the Medicine Bow Mountains.
Sand Creek
If you're absolutely determined to find a meteorite during your time in Wyoming, then you may want to extend your search to Sand Creek. Sand Creek is another popular rockhounding site in Albany County. Many rockhounds have ventured to the creek in the hopes of finding one of the meteorites thought to have landed in the area. While very few of them have been successful in this endeavor, even fewer have left Sand Creek empty-handed. There are plenty of different rocks to be found on the site so even a novice can expect to add to their collection here.
Amethyst Mountain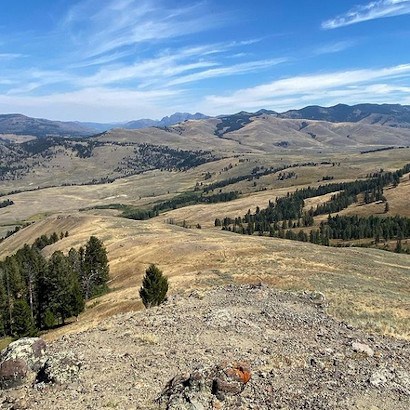 The Amethyst Mountain is situated in Park County. It can be accessed via Yellowstone National Park, which itself is a great spot for rockhounds. As its name suggests, the Amethyst Mountain is a frequent producer of amethyst.
The rocks of the Amethyst Mountain are not limited to its namesake. Opal and agate have also been found on the mountain. In addition to these specimens, the mountain is a well-known source of petrified wood. There are rumors of meteorites being found on the mountain, but we've yet to see any concrete evidence.
Yellowstone National Park
When it comes to rockhounding in Wyoming, there is no area more famous than Yellowstone National Park. The park sprawls an impressive 2,221,766 acres. It stretches from Wyoming into Montana and Idaho. It's a popular rockhounding site in all three states.
The Wyoming portion of Yellowstone National Park is particularly fruitful. As we discussed above, the park is home to the Amethyst Mountain. There, you can expect to find amethyst, opal, agate, and petrified wood. The rest of the park also offers great opportunities. Across Yellowstone National Park, rockhounds can expect to find sapphires, obsidian, volcanic rocks, and a wide array of fossils.
There is one downside of rockhounding in Yellowstone National Park. For many, it's a major downside. This is the fact that it's illegal to claim the park's rocks as your own. While you can certainly hunt them, hold them, observe them, and take pictures of them, you are forbidden from taking any discoveries home with you. Many rockhounds believe this defeats the purpose of the activity. However, it's still a great way to familiarize yourself with the different types of rocks. A visit to Yellowstone National Park will help you expand your knowledge of the state's rocks. This will make it easier for you to identify them when you find them in an area which permits collection.
Grizzly Creek
Grizzly Creek is one of Wyoming's lesser-known rockhounding areas. It's situated in Fremont County, which is known for its copper and manganese. These minerals are most commonly found in the county's Copper Mountain and are extremely unlikely to show up in Grizzly Creek. However what you will find in Grizzly Creek can be much more valuable.
Grizzly Creek is home to many of the gems and minerals typical of Wyoming. These include jade, agate, and jasper. More noteworthy than gems and minerals are the creek's sapphires. Grizzly Creek sapphire is stunningly beautiful and can be found in surprisingly large amounts. The same can be said of the creek's ruby, iolite, and kyanite.
Conclusion
Few states offer the variety of gems and minerals that Wyoming has. In a single Wyoming county, a rockhound can find sapphire, agate, amethyst, beryl, and even knightia fossils. Entire states rarely offer even three of these specimens.
The diversity of its rocks and the ease with which they can be found makes Wyoming the ideal state to visit if you're a novice trying to build your collection. Meanwhile, reports of meteorites in places like the Medicine Bow Mountains will give veteran rockhounds the challenge they need to keep their skills sharp.
Neighboring states also offer good opportunities. We recommend rockhounding in Colorado, rockhounding in Idaho, and rockhounding in Montana.