Nevada attracts millions of tourists each year. The majority of these visitors end up in Las Vegas, trying to score impossible riches through the roll of the dice. A small percentage, however, know where the real treasures lie. These are the rockhounds who visit the state's deserts and mountains. There, they can uncover all sorts of gems and minerals.
Nevada boasts the most turquoise mines of any state in America. In this article, we'll review the top places to find turquoise and other rocks in Nevada. We'll also include an overview of the state's rockhounding laws, as well as some handy tips to put you on the fast track to success.
Laws
Rockhounding is governed by some strict laws. Some of these laws vary from state to state, so you should familiarize yourself with the specific laws of any state that you plan on visiting.
On public land managed by the Bureau of Land Management (BLM) your collections are limited to 25 pounds per day or 250 pounds per year. Rocks discovered must be kept in your personal collection. Selling your finds for financial gain is prohibited.
Nevada has very strict trespassing laws. Rockhounds who don't do their research often find themselves on the wrong side of these laws. If you're planning to visit a certain site then be sure to establish who owns it beforehand.
Rockhounding is forbidden in Nevada state parks and national parks. Some rockhounds have been foolish enough to test this law and it has rarely ended well. Thankfully, there are plenty of spots where rockhounding is permitted in the state, as you'll see in the following section.
Remember to be mindful of rockhounding etiquette throughout your hunt. The fact that something isn't explicitly illegal does not make it okay. For example, digging holes is permitted in most of Nevada. However, you should respect the land and refill these holes before leaving the site. Similarly, we encourage you to pick up any litter you create or find during your hunt. One disrespectful rockhound could cause Nevada to introduce much stricter regulations.
You can avoid restrictions by rockhounding exclusively on private property. However, you will need to obtain the permission of the property owner, preferably in writing.
Best Spots
The four spots listed below will give you the best chances for success.
Oak Springs Trilobite Site
Not far from the city of Caliente lies the Oak Springs Trilobite Site. Unsurprisingly, this site takes its name from the trilobite fossils which are scattered throughout its soil. Over the decades, large quantities of trilobite have been extracted from the area. Naturally, this means that it can be a little more challenging for contemporary rockhounds to recreate the success of their predecessors. Nevertheless, with a keen eye and a whole lot of patience, you can expect to add some trilobite to your collection.
Oak Springs Trilobite site has the added advantage of being owned by the BLM. This means rockhounds can operate uninhibited as long as they complete the sign-in register which sits in the parking area.
Virginia City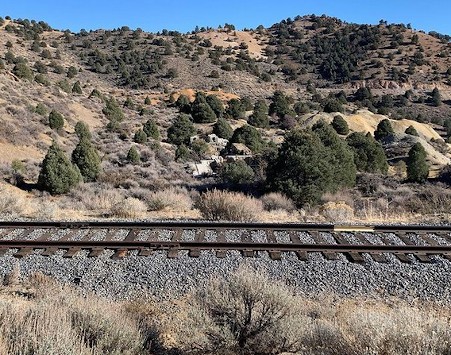 Virginia City was the site of the largest silver discovery in American history. This has inspired countless treasure hunters and rockhounds to venture to Virginia City, hoping to claim some silver of their own. Throughout the town, there are sites which attract large numbers of rockhounds every year. One such site is Chollar Mine.
During its heyday, Chollar Mine was one of the most active mines in Nevada. Though it is no longer in operation, rockhounds who have visited it have reported finding specimens in the soil outside the mine's entrance. Guided tours of Chollar Mine are available during certain times of the year. A tour of the mine is a great way to introduce your family and friends to the joys of rockhounding.
Virgin Valley
Virgin Valley runs across two states, Arizona and Nevada. The Nevada portion of the valley has become something of a mecca for rockhounds. A variety of rocks can be extracted from the valley's waters but opals are by far the most common. The opal content of the valley is so high that even a total novice is likely to make a few discoveries while rockhounding here. Although there are plenty of opals in Virgin Valley, they are known to have a high water content.
Rainbow Ridge Opal Mine
Not far from Virgin Valley lies Rainbow Ridge Opal Mine. The mine is home to some of the finest opal specimens in all of Nevada. In fact, some might say that you won't find better quality opals anywhere in the United States.
Rainbow Ridge Opal Mine is a pay to dig area. For a small fee, you can dig through pre-cut rock. This, of course, gives you a much higher chance of success and is the best option for those new to the hobby. Experienced rockhounds looking to challenge themselves can bypass the pre-cut rock in favor of exploring the mine independently.
Tips
Rockhounding in Nevada is not like rockhounding in any other state. Its unique climate and environment pose many challenges, especially for first-time visitors. Thankfully, these challenges can be overcome by following the tips below.
Nevada's summer temperatures can reach as high as 100 degrees Fahrenheit. This heat makes an extended rockhounding session virtually impossible. We suggest visiting the state during the fall and winter months when the sun is more tolerable.
Don't shy away from Nevada's pay to dig sites. Many rockhounds take issue with them, but the potential for success is more than worth the fee these sites charge. Novices in particular have a lot to gain from visiting a pay to dig site. They provide the perfect environment to develop one's skills under the watchful eye of more experienced rockhounds.
Nevada is home to a number of rockhounding clubs. If you're new to the hobby then consider reaching out to one of these clubs. They'll help you find additional sites to visit and they'll give you the support you need to make the most out of your trip.
Conclusion
Many of Nevada's most popular rockhounding sites have been extensively hunted. This means that most sites are not nearly as fruitful as they once were. Nevertheless, the state remains a popular destination among rockhounding enthusiasts and for good reason.
Even with the constantly depleting supply of minerals and gems, valuable specimens can still be found in the state. For example, turquoise remains in large supply and is regularly extracted by veterans and newcomers alike. The many pay to dig areas increase your chances of success, while sites such as Chollar Mine and Virgin Valley will help you fine-tune your skills.
Neighboring states also offer good opportunities. We recommend rockhounding in Arizona, rockhounding in California, and rockhounding in Utah.