New York State is one of the best treasure hunting locations in America. Over the past couple of decades, metal detector hobbyists have unearthed some remarkable objects from the state's soil. These items include centuries-old artifacts belonging to Native American tribes, such as the Algonquian. Relics from European settlers, Dutch merchants, and Revolutionary soldiers have also been uncovered in the state.
For the highest chances of success in New York, you should restrict your metal detecting to spots that have proven fruitful in the past. You'll find a number of such spots listed below. You'll also find a comprehensive examination of New York's metal detecting laws, so you don't inadvertently end up on the wrong side of them.
Laws
Metal detecting in New York is regulated by the Archeological Resources Protection Act. The ARPA is a federal law regulating metal detecting all across America. Its aim is to preserve items of historical and cultural significance. This law prohibits the removal of man-made objects more than 100 years of age from public ground.
The ARPA does not apply to metal detecting done on private property. Anyone planning to use their metal detector on private property should obtain the written permission of the landowner beforehand.
Local Rules and Regulations
New York's metal detecting laws are reasonable. This is partly why the state has become so popular among treasure hunters. Flexible as they are, these laws should still be understood and adhered to.
Metal detecting is allowed in most of New York's state parks as long as you have a permit. In the majority of cases, the appropriate permit can be obtained from the Parks, Recreation, and Historic Preservation Office. In some instances you may be required to contact your desired park directly.
It's important to remember that a permit to metal detect in a state park is not a license to do whatever you want. You'll still be expected to obey certain rules and regulations during your hunt. For example, you are forbidden from extracting your discoveries from the park soil. Similarly, you are asked to refill any holes and dispose of any litter that you create during your hunt.
Official archaeological investigations are ongoing in much of New York. For this reason, any site deemed to be of historical importance is off limits to hobbyists. Culturally important sites are also forbidden.
Metal detecting is generally allowed on New York's beaches. However we strongly advise contacting the governing authorities of any given beach before visiting with your metal detector. Some beaches will grant you permission to detect without any hassle. Others will ask you to apply for a permit. A select few do not allow metal detecting at all.
Best Spots
The four spots listed below will give you the best chances for success.
Taconic State Park
Taconic State Park is one of the largest state parks in America. At a mammoth 14,400 acres, the park stretches across both Dutchess and Columbia counties. As you might have guessed, its vast land provides plenty of treasure hunting opportunities.
Perhaps the most fruitful portion of Taconic State Park is the Copake Falls area. This is where metal detector hobbyists have discovered Native American arrowheads, old coins, and long-lost pieces of jewelry.
The Copake Falls area of Taconic State Park has cabins and a campground on site. This makes it a great spot for an extended treasure hunting trip.
Bear Mountain State Park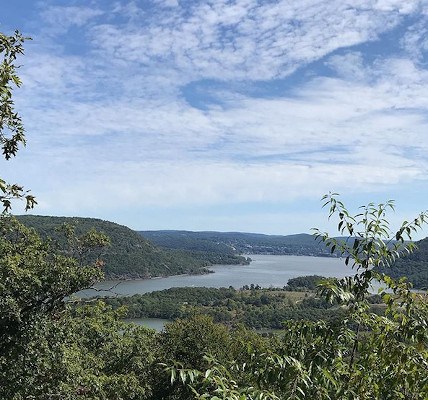 Bear Mountain State Park is located in the Rockland and Orange counties. Resting on the West Bank of the Hudson River, it's a great place to find tools and jewelry left behind by forgetful fishermen. You can also potentially find arrowheads and relics from the Revolutionary War in the park's soil.
For metal detector hobbyists, the gem of Bare Mountain State Park is Doodletown. Doodletown is a ghost town that is today engulfed by the park grounds. The town was settled in the 1700s and outlasted most other towns of its era. It remained a hub of culture, education, and business into the 1900s. WWII was particularly hard on Doodletown. Many of its residents were forced into battle and few returned home. By the beginning of the 2000s, Doodletown was an abandoned shell of its former self.
Today, metal detector hobbyists who visit Bear Mountain State Park focus much of their activity on Doodletown where they have uncovered relics from the Revolutionary War and WWII.
North Brother Island
North Brother Island is just a short journey from the Bronx. Despite the fact that it covers just 20 acres, it's one of the state's most infamous locations. In the 19th and 20th centuries, it was the site of a sanitarium and rehabilitation center. Most notably, it housed the notorious Typhoid Mary until her death in 1938.
Today, the island is abandoned. It has become particularly popular among urban explorers. However, it also has a great deal to offer treasure hunters. Visit the island with your metal detector in hand and you could possibly uncover relics from its heyday (if you can call it that). Discarded medical equipment can be discovered with a metal detector. While you shouldn't take these items home with you, they are exciting finds that make for interesting photo opportunities.
Bayville Beach
Bayville is a quaint fishing village in Oyster Bay, Long Island. Often referred to as New York's "best kept secret", it's home to Bayville Beach. From the shores of the beach you can take in a breathtaking sunset that can rival anything you'll see in New York City. The beach has also proven to be a promising site for metal detecting.
Over the years, metal detector hobbyists have found rings, watches, and other pieces of jewelry in the beach's sand. This makes it a great destination if you're hoping to use your metal detector to reunite Bayville residents with their lost property.
One of the best things about Bayville is the town's lack of popularity. It doesn't attract a lot of tourists, even during the summer months. This means you'll have plenty of space to explore its beach.
Metal Detecting Clubs
New York is a popular state among treasure hunters. For this reason, a number of metal detecting clubs operate across the state. If you live in New York before then we recommend joining one of these clubs.
Club members will be able to guide you towards other fruitful spots in the state. They'll also help you navigate New York's metal detecting laws and help you understand the code of ethics that all treasure hunters should abide by.
Some of the top metal detecting clubs in New York include:
Atlantic Treasure Club (Wantagh)
Empire State Metal Detector Association (Latham)
Richmond Research and Recovery (Staten Island)
Western New York Gold Prospecting Club (Medina)
Conclusion
New York has been the scene of some of the most important events in American history. Today, it's the site of some of the nation's most important discoveries. Treasure hunters across the state are regularly uncovering artifacts from Native Americans and world-changing battles in addition to contemporary items. When put together, these discoveries help us better understand New York and its history.
Neighboring states also offer good opportunities. We recommend metal detecting in New Jersey and metal detecting in Pennsylvania.