Arkansas is home to an estimated three million people. These three million people are spread out across what is perhaps the most diverse geography in the entire United States. The state's rather modest 53,179 square miles feature mountains, forests, parks, and rivers. With so many different environments located so closely to each other, it should come as no surprise that Arkansas is a popular state for rockhounding.
Rockhounds from all over America flock to Arkansas in the hopes of claiming some of its agate, jasper, and opal for themselves. Sadly, not all of them leave with something to show for their efforts. So what's the difference between those who enjoy rockhounding success and those who don't? Is it experience? Not as often as you might think. Is it luck? Rarely. Most of the time, the difference between success and failure is as simple as knowing where to search.
If you want to maximize your chances of a successful hunt in Arkansas, then you should visit the sites listed below. They are the state's most productive rockhounding locations and they appeal to both novices and veterans. This article also lists the laws and regulations for rockhounding in Arkansas. Keep them in mind during your outings, as violations could result in forfeiture of your discoveries.
Laws
Rockhounding in Arkansas is governed by many of the same laws which govern the activity across America.
On public land managed by the Bureau of Land Management (BLM) your collections are limited to 25 pounds per day or 250 pounds per year. Rocks discovered must be kept in your personal collection. Selling your finds for financial gain is prohibited.
Those rockhounding in Arkansas are expected to leave their hunting sites as they found them. This means refilling any holes you create and picking up your litter. A violation here does not just go against the rockhounding code of ethics- it could also leave you with a hefty fine! In addition, the sale of rocks obtained from public land is strictly forbidden in Arkansas.
You can avoid restrictions by rockhounding exclusively on private property. However, you will need to obtain the permission of the property owner, preferably in writing.
Best Spots
The four spots listed below will give you the best chances for success.
Magnet Cove
In Hot Spring County lies a former town by the name of Magnet Cove. During its heyday, Magnet Cove was home to a tight-knit community. As of the 2010 census, however, it has a population of just five people and the latest census numbers have not been tabulated. The sparse population is good for rockhounds because it means less competition and a quiet atmosphere.
The best site for rockhounding in Magnet Cove is, undoubtedly, Cove Creek. The creek runs through the area and is a regular producer of pyrite, magnetite, and brookite. Magnet Cove rockhounds also have a shot at uncovering kimzeyite. Kimzeyite is an extremely rare mineral that was discovered in Magnet Cove before anywhere else in the world. This mineral is sought after by many rock collectors, so adding some to your collection can make you the envy of rockhounds across America.
Crater of Diamonds State Park
Most of the world's diamond mines are closed to the public. Thankfully, rockhounds who have their hearts set on finding a diamond or two can pay a visit to Crater of Diamonds State Park.
Crater of Diamonds State Park is located in Pike County. It holds the distinction of being the only active diamond site in the world that is open to hobbyist rockhounds. Since becoming a state park in 1972, the Crate of Diamonds has been the site of several notable discoveries. These discoveries include the Lamle Diamond, the Okie Dokie Diamond, and the Illusion Diamond. Sizable diamonds are discovered in the park to this day, with the most recent being the Kinard Friendship Diamond. This diamond was discovered by Kevin Kinard in 2020 and came in at a beautiful 9.07 carats. Are you destined to follow in Kinard's footsteps? Visit the Crater of Diamonds for yourself and find out!
Ouachita National Forest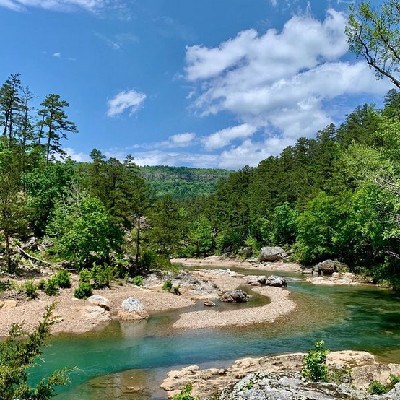 Ouachita National Forest is the best place to search for quartz crystals in Arkansas. This forest consists of 1,800,000 acres and it stretches across central Arkansas and into Oklahoma. It's a popular site among rockhounds from both states, most of whom leave the forest with some new crystals for their collection.
Collecting crystals in Ouachita National Forest is restricted to two areas: the Crystal Vista and Crystal Mountain. Although these sites only make up a small portion of the forest's land, they contain plenty of quartz crystal. Meanwhile, additional gems and minerals can be uncovered at other sites in the forest. Wavellite is perhaps the most common of these minerals. Ouachita National Forest's wavellite specimens are most commonly uncovered near the Avant mines.
Blanchard Springs Caverns
Blanchard Springs Caverns is located in Ozark National Forest. The forest is home to a plethora of valuable gems and minerals. These gems and minerals include stalactites, stalagmites, and limestone. Valuable rocks can be found all over the forest, but few of its sites have proven more productive than Blanchard Springs Caverns.
Blanchard Springs Caverns is known as a "living cave", meaning that its formations are still developing. Tours of the cave are available and they allow rockhounds a rare insight into how the rocks they collect are formed. These tours are popular among rockhounds of all experience levels. They are a great way to introduce somebody to rockhounding and spark their love of the hobby.
Conclusion
If you want to build a rock collection that is truly unique, then Arkansas is a must visit state. The kimzeyite of Magnet Cove is among the most sought after minerals by rockhounds. Even a single piece of this kimzeyite will make your collection stand out.
Arkansas is also a great state for rockhounding novices. Gem and mineral museums across the state provide an extensive education in the subject. In addition, beginner-friendly sites such as Crater of Diamonds State Park create the perfect environment for a novice's first find.
Neighboring states also offer good opportunities. We recommend rockhounding in Missouri and rockhounding in Texas.