Some of the most notable gem and mineral discoveries in American history have been found in Missouri. To this day, collectors continue to unearth limestone, dolomite, fireclay, and more from Missouri soil. You can enjoy similar success. All you have to do is visit the rockhounding sites discussed in this article.
In this article we have listed sites that contain gems and minerals. Some sites virtually guarantee success to novices. Other sites present more experienced rockhounds with the challenges they need to sharpen their skills. We also list some of the most important laws to keep in mind while rockhounding in the Show-Me State, along with some relevant clubs that you should consider reaching out to.
Laws
Rockhounding in Missouri is governed by many of the same laws which govern the activity across America.
On public land managed by the Bureau of Land Management (BLM) your collections are limited to 25 pounds per day or 250 pounds per year. Rocks discovered must be kept in your personal collection. Selling your finds for financial gain is prohibited.
Missouri state parks are off limits for rock collectors. In fact, it's illegal to even move a rock in a Missouri state park, as doing so could disturb the park's ecosystem.
You can avoid restrictions by rockhounding exclusively on private property. However, you will need to obtain the permission of the property owner, preferably in writing.
Best Spots
The three spots listed below will give you the best chances for success.
Lincoln
The city of Lincoln is located in Benton County. Despite its small population of just over 1,000 people, the city attracts countless visitors each year. Many of these visitors are rock collectors, who come to search for chunks of mozarkite. Mozarkite is a variety of chert and it's Missouri's designated state stone.
Mozarkite is plentiful throughout Lincoln, but is most common in its creeks and ditches. Other minerals can also be found, but they can be harder for novices to uncover. Therefore we generally recommend other Missouri rockhounding destinations to collectors who aren't specifically interested in mozarkite.
Clark County
Mozarkite isn't the only rock that will give your collection a Missouri flair. Missouri is also known for its geodes, particularly the Keokuk variety. Keokuk geodes are known to hold numerous additional minerals, including pyrite and dolomite. They can also contain quartz crystals.
Keokuk geodes take their name from the Iowa city of Keokuk. In Missouri these rocks are most commonly found in Clark County. In particular, they can be uncovered in the Clark County towns and cities that lie closest to Keokuk, primarily Wayland and Alexandria. A visit to the Iowa borders of these cities is almost certain to yield enough Keokuk geodes to fill your pockets.
Stockton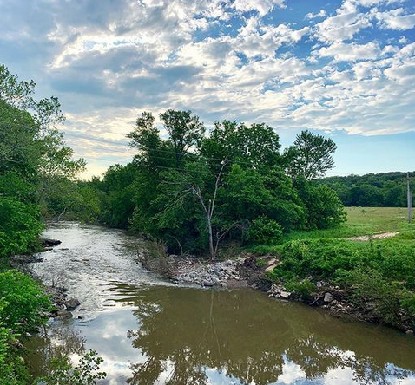 Stockton is a small town that has a variety of rocks. This town is especially known for its geodes. You can find geodes by searching near streams, ditches, and farms. In particular we recommend searching for geodes in northern Stockton near old roads.
In addition to geodes, you can also find quartz, calcite crystals, and fossilized coral.
Rockhounding Clubs
Rockhounding in a new state can be a little intimidating. Even the most seasoned of rockhounds may be unsure where to begin when they arrive in the show-me state. For these reasons, we recommend contacting one of Missouri's many rockhounding clubs and societies. The most popular rockhounding organizations in the state include:
Central Missouri Rock and Lapidary Club (Columbia)
Mineral Area Gem and Mineral Society (Park Hills)
Mozarkite Society of Lincoln (Sedalia)
Osage Rock and Mineral Club (Osage Beach)
Ozark Mountain Gem and Mineral Society (Springfield)
Rock Hobby Club (St. Louis)
Show-Me Rockhounds Association (Kansas City)
Conclusion
Missouri has something for rockhounds of all levels. However, it's the veterans who have the most to gain from visiting this state. While there are numerous sites where a newcomer can hone their skills, it can require the keen eye and steady hand of an experienced rockhound to uncover some of the agates and geodes found in the state. Thankfully, the many rockhounding clubs and societies operating in the state will give newcomers the guidance they need to master the hobby.