Ohio has been inhabited for thousands of years. Archeological evidence suggests the state was first inhabited by paleo-indians dating as far back as 14,000 BC. These early residents left behind mounds and artifacts that are still being discovered today. Each subsequent society left similar traces.
Ohio's extensive history makes it a good state for metal detecting. So what could you uncover? A tool used by the Adena culture 2000 years ago? Or something from a more recent period in American history?
In this article we'll review the state's laws and the most productive spots for metal detecting. We'll also review some of the legends that add a fun dynamic to metal detecting in the Buckeye State.
Laws
Metal detecting in Ohio is regulated by the Archeological Resources Protection Act. The ARPA is a federal law regulating metal detecting all across America. Its aim is to preserve items of historical and cultural significance. This law prohibits the removal of man-made objects more than 100 years of age from public ground.
The ARPA does not apply to metal detecting done on private property. Anyone planning to use their metal detector on private property should obtain the written permission of the landowner beforehand.
Local Rules and Regulations
Metal detecting in Ohio state parks is almost entirely forbidden. There is some wiggle room in state parks with sandy beach areas. But even then you'll need written permission from park authorities. You'll also be expected to restrict your activities to just the beach. Should you find an item you believe to be 100 years or older, you are expected to notify park authorities of the discovery.
Metal detecting is allowed in national parks, but you will again need the permission of those in control. Using your metal detector near picnic or other activity areas is prohibited.
Best Spots
The five spots listed below will give you the best chances for success.
Wayne National Forest
As mentioned above, metal detecting in Ohio's national forests is allowed with official permission. As such, Wayne National Forest is one of the state's most popular metal detecting destinations.
On occasion, artifacts from pre-Colonial America have been discovered in the area's soil. However, the real allure of the forest is its history as a lumber site. Throughout the 18th and 19th centuries, Wayne National Park was pillaged for its lumber. As a result, items belonging to past lumberjacks are regularly uncovered from the land.
Indian Lake State Park
Metal detecting is forbidden in most of Ohio's state parks. However state parks that have sandy beaches are a safe bet. Indian Lake State Park is home to Oldfield Beach. Secure permission to use your metal detector on its shore and there's no telling what you might find.
The sands of Oldfield Beach have been known to produce artifacts attributed to America's earliest European explorers. But treasure hunters have more frequently reported finding watches and other forms of jewelry in its sand. This is certainly less exciting than centuries-old relics. However, these items are generally well under 100 years old, which means that you can legally keep them.
Alum Creek State Park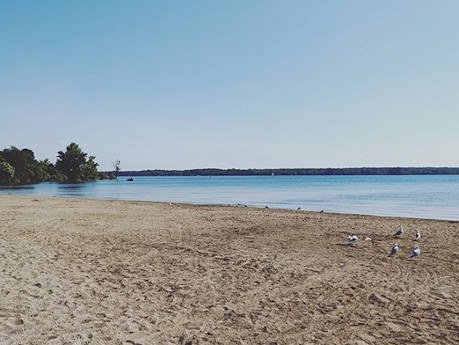 Just like Indian Lake State Park, Alum Creek State Park is home to a sandy beach. This makes it an approved spot for metal detecting according to Ohio state law.
The sands of Alum Creek Beach have proven extremely fruitful over the years. Among its most notable discoveries are artifacts from Native American tribes. Some relics unearthed from the beach have been classified as being almost 2000 years old.
This beach was also a crucial site for the Underground Railroad. Although most of those who traveled the now iconic trail fled with nothing but the clothes on their backs, buttons and other misplaced artifacts can potentially be found here.
Aurora
Aurora is one of the more unique entries on this list. Rather than being one specific site in Ohio, this is an entire city. Throughout the decades, metal detector hobbyists have reported finding relics in the city soil. Many of these relics have been discovered on private property. However, there is no shortage of public land for Aurora's treasure hunters to search.
Aurora boasts more than 10 parks that metal detector hobbyists can search in. However it's important to remember that metal detecting in these parks is governed by the city's strict laws. If you find an item that seems that it was recently lost, such as a modern watch or ring, then you are expected to make an effort to return it to its original owner. In addition, you are asked to keep your activities to unpopulated portions of the park. If you would like to detect in the more popular areas, then you should wait for off-peak hours.
Hilliard
Hilliard is like Aurora in that it isn't a single location. This is a city located in Franklin County. Within its city limits there are 12 parks which boast thousands of acres in total. Each of these parks has turned up noteworthy treasures, with some dating all the way back to the pre-Colonial era.
Among the most popular parks in Hilliard are Homestead Metro Park, Roger A. Reynolds Municipal Park, and Hilliard Station Park. Remember to check if permission is required before metal detecting in any of these parks. If permission is required then be sure to obtain it.
Treasure Hunting Legends
If you want to set your sights high, then you can try to find some of the lost treasure described below.
Crown City
Contrary to its name, Crown City is a small village. It's located in Gallia County along the Ohio River. It's here that pirates are said to have buried treasure in 1876. According to legend, the treasure was made up of gold and silver coins, as well as jewelry, and was worth a total of $24,000. It's said that the pirates buried their bounty in the northeast of Crown City, overlooking the river.
Minerva
During the Revolutionary War, it was not uncommon for wealthy individuals to bury their riches. They did so in order to protect their fortunes from rebels and marauders, with the intention of unearthing it once the war ended. Many did indeed return to claim their buried treasure in the decades following the battle. But others did not.
According to legend, one wealthy resident of Minerva in Carroll County buried $25,000 worth of gold coins in the village. This person returned to retrieve the coins and so the treasure lies buried to this day.
Ashtabula
In 1876, the city of Ashtabula was the site of a horrific train crash that killed 92 passengers. Derailed by a blizzard, the train fell 70 feet into the Ashtabula River. Along with its passengers, the train was carrying $2 million in gold bullion. This has inspired many treasure hunters to visit the river in the hopes of claiming these lost millions as their own.
Conclusion
Although Ohio is far from the largest state in America, its treasure hunting opportunities cannot be denied. Its history traces all the way back to around 14,000 BC. Here in the Buckeye State you can find old relics as well as more contemporary items.
If you are interested in gold prospecting, then you could also try gold panning in Ohio. Flour and placer gold can be extracted here.