1963 was one of the final years that Roosevelt dimes were minted. These coins aren't rare, but they do have value as numismatic coins and as silver bullion. Keep reading to learn more about these silver coins.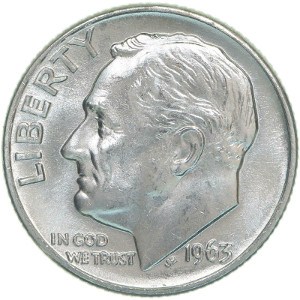 Specifications
Type: Roosevelt Dime
Year: 1963
Face Value: $0.10
Composition: 90% silver, 10% copper
Silver Weight: 2.25 grams
Total Weight: 2.5 grams
Current Silver Bullion Value: $1.29
The US minted the 1963 dime with no mint mark and also the 1963 D dime. You can find the mint mark on the front side of the coin.
| Series | Location | Quantity Minted |
| --- | --- | --- |
| 1963 | Philadelphia | 123,650,000 |
| 1963 D | Denver | 421,476,530 |
Value
The value in circulated condition is worth at least its weight in silver. The silver melt value for this coin is $1.29 as of September 19, 2019. This melt value is calculated from the current silver spot price of $17.83 per ounce.
Both the 1963 dimes with no mint mark and the 1963 D dimes have similar values. In fine to extremely fine condition these coins sell for a slight premium above their scrap silver value. In uncirculated condition the value is around $3.00-3.25.
Proof coins are available and they are each valued at around $10-15 when graded by a reputable grading company. Graded proof coins with a grade of PR 68+ will sell for more. The Philadelphia mint issued out three million collectible proof coins so they aren't rare.
Double Die Error
There is a double die error for the 1963 dime with no mint mark. This error is usually easy enough to spot if you know what to look for. On the reverse side of the coin there will be letters that overlap each other. It's easiest to see this overlap on the larger letters.
There is a lack of recent sales data for this error coin. However the value would be estimated to be around $30 for coins in extremely fine to about uncirculated condition. The value would be higher in uncirculated condition.
See also: