The 1924 Huguenot half dollars have value as numismatic coins. Keep reading to learn more about these silver commemorative coins.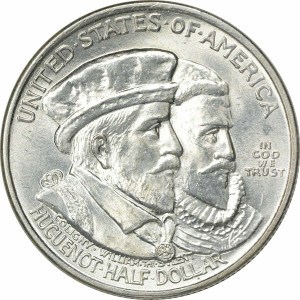 Specifications
Type: Commemorative Half Dollar
Year: 1924
Face Value: $0.50
Composition: 90% silver, 10% copper
Silver Weight: .36169 oz.
Total Weight: 12.5 grams
Current Silver Bullion Value: $8.74
This coin is officially known as the Huguenot-Walloon Tercentenary. This coin commemoratives the settling of the Huguenots and the Walloons in the New World. On the obverse side of the coin you can see the images of Admiral Coligny and William the Silent. On the reverse side of the coin there is an image of the ship Nieuw Nederland.
The US minted the Huguenot half dollar with no mint mark. There were no other series issued for this commemorative coin.
| Series | Location | Distribution |
| --- | --- | --- |
| 1924 | Philadelphia | 142,080 |
Value
This coin in circulated condition is worth at least its weight in silver. The silver melt value for this coin is $8.74 as of December 05, 2023. This melt value is calculated from the current silver spot price of $24.16 per ounce.
The 1924 Huguenot half dollar is worth around $126 in about uncirculated condition. In uncirculated condition this coin is worth around the following: $130 with an MS 60 grade, $175 with an MS 63 grade, $225 with an MS 65 grade, and $450 with an MS 66 grade.
Click here to search for 1924 Huguenot half dollars on Amazon.
Sources:
See also:
1925 Stone Mountain Half Dollar
1926 Sesquicentennial Half Dollar