The 1921 Standing Liberty quarters are rare and they have a lot of numismatic value. Keep reading to learn more about these silver coins.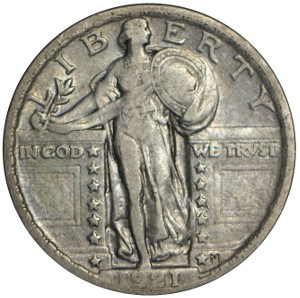 Specifications
Type: Standing Liberty Quarter
Year: 1921
Face Value: $0.25
Composition: 90% silver, 10% copper
Silver Weight: .18084 oz.
Total Weight: 6.25 grams
Current Silver Bullion Value: $4.61
There is no mint mark for this coin and it was only minted in Philadelphia. 1921 D quarters or 1921 S quarters do not exist!
| Series | Location | Quantity Minted |
| --- | --- | --- |
| 1921 | Philadelphia | 1,916,000 |
Value
This coin in circulated condition will be worth a lot more than its weight in silver. But just for reference, the silver melt value for this coin is $4.61 as of December 02, 2023. This melt value is calculated from the current silver spot price of $25.47 per ounce.
The 1921 quarter is rare and thus it has a lot of numismatic value. This coin is worth around $165 in good condition. In very fine condition the value is around $550. In extremely fine condition the value is around $750. In uncirculated condition the price is around $1,500 for coins with an MS 60 grade. Uncirculated coins with a grade of MS 63 can sell for around $2,000.
Click here to search for Standing Liberty quarters on Amazon.
Grading System
Good- The date and the letters are readable. The top of the date is worn. Liberty's toes and right leg are completely worn. There is a lot of wear on Liberty's left leg and the drapery lines.
Very fine- The garmet line across liberty's leg looks worn, but it's visible at the sides.
Extremely fine- Only the high spots are flattened. Liberty's toes look sharp. The drapery lines across Liberty's right leg are clearly visible.
MS 60 uncirculated- There are no signs of wear. The coin has luster, but there may be a few stains, abrasions, or surface marks.
MS 63 choice uncirculated- In the major focal areas there are some blemishes or contact marks. The coin's luster might not be as prominent.
Sources:
See also: