A tea caddy is a container used to hold tea. The word caddy is derived from the malay word "kate" which means a weight equal to 1 1/15 of a pound. Tea was once sold by the kate, and thus the name transferred over to the container. The word canister is sometimes used instead of caddy.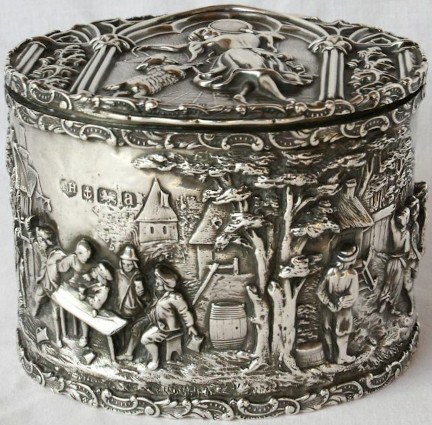 Tea caddies were first introduced in England during the time of Queen Anne (r. 1704-1714), although examples from this time period are rare. They were made in greater numbers during the time of George I (r. 1714-1727).
The original silver caddies were generally made in sets of two or three because different varieties of tea were stored in different caddies. It's been theorized that the center caddy was used as a sugar bowl. The early silver caddies were small because tea was expensive. As tea got cheaper, the caddies became larger in size.
The first caddies had a sliding panel and a domed top. The sliding panel was used to prevent tea from being wasted when transferring the tea from its original package. Later caddies were made with hinge covers similar to regular boxes. Hinges could be a reason why today some caddies are used as cigarette containers.
Caddies used to be placed in an outer case of decorated wood or shagreen and fitted with a lock and key. Tea was expensive at the time so these locks and keys were used in order to prevent servants from stealing tea. Today it's rare to find an original case because through constant usage the cases would need to get replaced or thrown way. There are also silver caddy spoons which were used to transfer tea.
Some of the finest silversmith creations are represented in caddies. In particular, Paul de Lamerie created some incredible pieces. Some of the later caddies have elaborate decoration.
The earliest English tea caddies were made of silver. Some of the later models were made of Sheffield plate or silver plate.
Value
Antique silver tea caddies are rare and they can sell for hundreds of dollars. Some early pieces can sell for over $1,000. Sets will be more valuable. Most antique silver plated pieces can sell for over $100.
Sources:
The Book of Old Silver
See also: