Though not as productive as some other American states, South Dakota is home to many gold-bearing rivers. Much of South Dakota's gold was extracted during the 19th century. As a result, sizeable new finds are uncommon. However for some prospectors, the placer gold still present in South Dakota rivers is enough to warrant a trip to the state.
History of Gold in South Dakota
The first major report of gold in the state came in 1874. The discovery was made by men working under General Custer. Custer's team reported finding gold at French Creek during the Black Hills expedition. This was quickly followed by additional discoveries. It was soon determined that prospecting in the Black Hills could yield $150 a day, which brought hundreds of prospectors to South Dakota. A number of commercial mining projects were also established, and the state even became home to the deepest gold mine in America.
Rules and Regulations
Gold prospecting in South Dakota is rather unrestricted. The use of a pan or a hand sluice does not require a permit. But the use of motorized equipment or a suction dredge requires a permit.
The state's forests are generally safe for panning. However portions of these forests may be private property. Local prospectors in the area have been quick to claim any patch of land that seems promising. The Bureau of Land Management lists many active mining claims in South Dakota. Consult the BLM's South Dakota Field Office for their locations to avoid inadvertently trespassing.
Best Prospecting Tools
Best Locations
For successful prospecting in South Dakota, you should focus on the counties that have produced gold in the past. In the section below, we'll examine some of the state's most historically reliable counties.
Lawrence County
Lawrence County has been responsible for much of the gold extracted from South Dakota. It's home to the Homestake Mine, which fanatics may recognize as the deepest gold mine in America. Throughout its history, the Homestake Mine has produced more than 39 million ounces of gold.
Lawrence County also has plenty of gold-bearing creeks for recreational prospectors to pan. Among the most noteworthy of these creeks is Deadwood Creek. This Creek was a regular producer of placer gold in the 19th century and remains so today. Lawrence County prospectors should also check out Yellow Creek, Elk Creek, and Strawberry Creek.
Custer County
Named after General Custer, Custer County was the site of the first major gold discovery in South Dakota. That discovery took place at French Creek, which is still panned today. French Creek runs through the Black Hills, which may complicate matters. Because the area is so popular among South Dakota prospectors, the Black Hills are riddled with mining claims. Finding a spot in the Black Hills where you can pan without fear of trespassing is difficult. We suggest contacting the Bureau of Land Management to find unclaimed land.
Pennington County
Much like Custer County, Pennington County is home to a portion of the Black Hills. It also boasts a number of rivers and tributaries that have produced notable amounts of gold. One of the highest producers of gold in Pennington County is Spring Creek. This Creek actually runs through Custer County as well and has been the site of significant discoveries in both counties. Pennington County prospectors should also make time to pan Rapid Creek, Battle Creek, and Castle Creek.
Butte County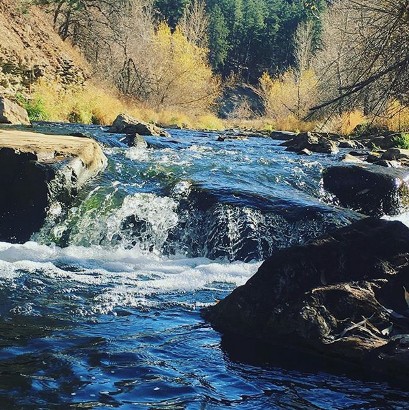 Butte County is largely lacking in gold-bearing rivers. However it's home to one particularly rich body of water, Whitewood Creek. This creek runs through Butte County and it was the site of many of South Dakota's earliest gold discoveries. But this alone is not enough to attract most prospectors to the county. Whitewood Creek can be more easily accessed via Lawrence County. There it can be panned in conjunction with richer streams.
Conclusion
Because South Dakota was so heavily mined during the 19th century, it's not as rich as it once was. If you're a novice prospector, then you may have a difficult time capturing the state's fine gold. If you're new to the hobby then you're better off starting in a different state. The nearby states of Montana and Wyoming are better. For experienced prospectors, the chances of success in South Dakota are much higher.