For most of the 1800s, Oklahoma was inhabited only by Native Americans. When white settlement became permitted at the turn of the century, thousands fled to the state. Artifacts from Oklahoma's history are found by treasure hunters to this day.
Laws and Regulations
Metal detecting in Oklahoma is regulated by the Archaeological Resources Protection Act. You'll also have to deal with the Antiquities Act of 1906. These laws have many similarities. Both are designed to preserve American objects and lands of historical importance. Under federal law, removing a man-made item that is more than 100 years old from public land is illegal.
Treasure hunting in state parks is allowed. However, you'll first have to obtain a permit from park management. Some state parks forbid digging, which can make metal detecting pretty much pointless.
Many Oklahoma treasure hunters have inadvertently found themselves on the wrong side of the law. Violating the state's treasure hunting laws can land you in serious trouble, even if done so unknowingly. You may face a fine of $500 and maybe even time in a county jail.
If you don't want to risk inadvertently breaking the law, then you should focus your metal detecting on private property. When searching on private property you are free to excavate any object, regardless of its age. Just be sure to obtain the permission of the landowner before you start searching. You should also be mindful that any item discovered on private property legally belongs to the landowner.
Best Metal Detecting Equipment
Ghost Towns
There are ghost towns scattered throughout Oklahoma. Many began as mining towns but were abandoned when resources ran dry. Modern treasure hunters frequently visit these ghost towns. Many report finding tools and jewelry left behind by former inhabitants.
Texola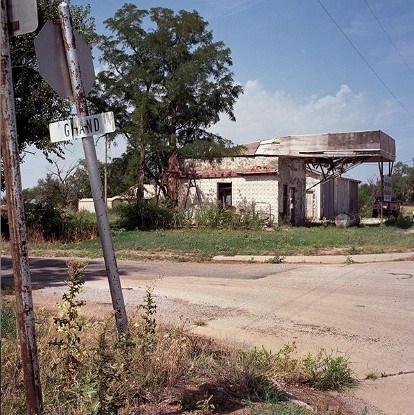 The 1910 census listed close to 400 residents in Texola. A census 100 years later found barely 30 people living there. Today, the town lies virtually abandoned. Many of its buildings have crumbled or been lost in overgrowth. A bar, a gas station, and a town jail remain standing. These buildings are popular among urban explorers and treasure hunters. The streets of the town also boast their fair share of treasure. A metal detector can identify everyday items left behind by Texola's residents.
Ingalls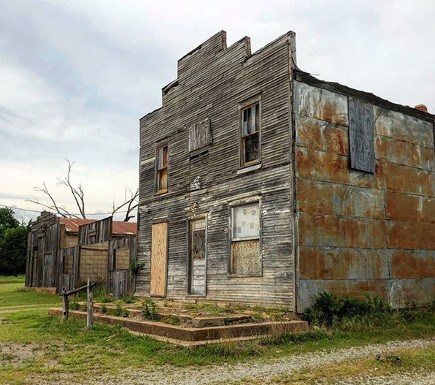 Ingalls is located in Payne County and it lies empty aside from a few wooden buildings. The town's population peaked at 150 in the 1890s and it was all downhill from there.
Ingalls is most notable for the Battle of Ingalls. This shootout pitted the Doolin-Dalton Gang against a troupe of U.S Marshals. The Marshals, gang members, and even some residents were injured during the fight- some critically. Today, a stone memorial sits in the town to honor the Marshals and civilians who perished during the battle. But this stone isn't the only trace of the town's infamous shootout. Metal detectors have helped uncover many suspected relics of the battle.
Lenora
Lenora was once the heart of culture and trade in Dewey County. Today, it's one of Oklahoma's many ghost towns. Lenora still has potential for metal detecting. Several treasure hunters have uncovered items from its time as the Pearl of the Prairies.
Buried Treasure
Before Oklahoma was open for settlement, outlaws often buried stolen goods in its wilderness. In many cases, the law caught up with these outlaws before they could return to claim their valuables. Below are three of the most famous stories of buried treasure in Oklahoma.
Fort Sill Treasure
In 1892, a coach carrying payroll left Texas carrying $100,000 in gold and silver coins. As it passed through Oklahoma, the soldiers in the coach were ambushed by three armed men. A shootout then ensued.
All passengers of the coach were killed, as were two of the robbers. The remaining outlaw is said to have buried the loot ten paces from a well just outside Fort Sill. He then went to seek medical treatment for injuries he sustained during the heist. The bandit was arrested shortly after, but he attempted to uncover his treasure when he was released in 1925. To his surprise, he found that Fort Sill had changed dramatically and the bounty was virtually untraceable. Treasure hunters have been searching for the loot since the story became widespread in the 1960s.
Mill Creek Treasure
In 1862, several years before the aforementioned Fort Sill incident, a payroll coach was looted as it passed through Oklahoma. The perpetrators made off with an unknown amount in gold and silver coins. The crime was committed by seventeen men, although five were killed during the robbery. The remaining twelve divided the loot into three piles. The two smallest piles were buried in metal pots along Mill Creek. The largest pile was taken into the Arbuckle Mountains and buried there in another series of metal containers. No parts of the treasure were ever retrieved.
The Blue River
There are countless stories of buried treasure along the Blue River. One of the most popular tales is one of a band of Confederate soldiers who ambushed and robbed a Federal supply wagon in Kansas. The soldiers stole two large barrels of gold coins and set off for Texas. As they passed through Oklahoma, karma struck. The soldiers were attacked by a team of outlaws, possibly the James-Younger Gang, who claimed the bounty for themselves. They allegedly buried the loot in a cave near the Blue River. Legend places this cave five miles northeast of Brown, a ghost town in Bryan County.
Conclusion
Many former outlaws in Oklahoma hid stolen goods in the soil. It's possible that there is more buried treasure in Oklahoma than is rumored. We may not even know about some treasure until it's found! The best way to find that treasure is with an accurate metal detector.