Alabama was one of the first states in which gold was discovered. It even experienced its own gold rush during the 1830s. To this day, prospectors continue to find gold nuggets in the state. But this naturally-occurring gold is far from the only treasure Alabama has to offer.
The birthplace of the Confederacy, Alabama was the site of several Civil War battles. Artifacts from this crucial period in American history are frequently found in the state's soil. These Civil War relics, along with stories of buried treasure from the 18th and 19th centuries, are what motivates people to metal detect in the Yellowhammer State.
Laws
Treasure hunting in Alabama is regulated by the Archaeological Resources Protection Act (ARPA). In some areas, this law is annoyingly vague. Essentially, it's a federal law which prohibits the excavation of objects of human origin that are more than 100 years old.
Privately-owned land is not regulated by the ARPA. As long as you obtain permission from the landowner, you are free to extract objects from private property. Of course, any items discovered is the legal property of the landowner unless a deal is made.
Best Metal Detecting Equipment
Buried Treasure
For centuries, tales have been told about buried treasure in Alabama. Although many of these rumors lack any supporting evidence, treasure hunters remain motivated.
Fort Payne Treasure
If you're prospecting in Alabama with your metal detector, then you can try searching for the treasure of John Willismith. If it actually exists, then it lies somewhere in the city of Fort Payne- the county seat of DeKalb County. Long ago, more than half of the city was owned by John Willismith. He is rumored to have buried about $100,000 worth of gold throughout his portion of Fort Payne.
Athens Treasure
Around $100,000 worth of buried treasure is also said to lie near Athens in Limestone County. According to local legend, a band of Confederate soldiers buried the riches in two metal boxes just outside the town in 1865. Of the many stories of buried treasure in Alabama, this is one of the most plausible. During the Civil War, it was not uncommon for Confederate soldiers to bury money and gold in the Alabama soil. They did this in an attempt to keep their most prized possessions away from Union soldiers.
Perdido River Treasure
It's believed that Henry Nunez buried a significant quantity of cash in Alabama during the Civil War. Nunez was a ferry operator and his bounty is said to lie near the Perdido River between Alabama and Florida. Most agree that the location is likely in the vicinity of Nunez's former home on the Alabama side of the river. What is not agreed upon is the value of the Nunez treasure. Some estimate Nunez buried $100,000 while others put the number as high as $200,000.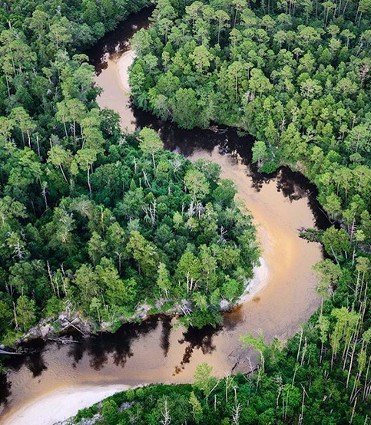 Alabama's Napoleonic City
Demopolis is the largest city in all of Marengo County. The city was founded by supporters of Napoleon Bonaparte. Followers of the French military leader came to Alabama after being exiled in the 19th century. They soon established Demopolis. For a short period, the town thrived. However it was completely abandoned before the 1830s.
The vicinity around Demopolis was inhabited again in the mid-19th century. Most of those living in the area around this time were wealthy plantation owners. Shortly after they moved in, the town began expanding. It eventually became a full-fledged city and today boasts a population of almost 10,000 people. It's believed that the French founders of Demopolis hid many objects of significance beneath its soil. The plantation owners who later inhabited the city are also said to have buried treasure there.
Conclusion
There is a lot of different treasure buried in Alabama. Treasure hunters in the state regularly report finding relics from the Civil War, even away from designated battlefields. Others claim to have found pieces of gold in Alabama's rivers and soil. Relics of the Napoleonic Wars, which didn't even take place on the same continent as Alabama, may be found under the city of Demoplis. Large amounts of cash are also said to be buried throughout the state, including in Athens and Fort Payne. With a quality metal detector and a keen eye, you can find success in Alabama.