Chances are you know someone who is a coin collector. This is good because it's easy to find gifts for them. These gifts can be bought either online or through a local coin shop. Below we review the nine best gift ideas for coin lovers.
1. American Silver Eagles
You absolutely can't go wrong with American Silver Eagle coins. It's the most popular proof coin in the United States and its recognized worldwide for its quality.
If someone is just beginning to start a coin collection, then this makes a great present. The American Silver Eagle is a beautiful coin that will inspire many to keep collecting the yearly edition.
There is also the American Gold Eagle coin, however gold is much more valuable than silver. Just one of these coins would cost you over $1,000.
Of course there are plenty of other coins you could give. The American Silver Eagle is a good choice because of its relatively low cost and how recognizable it is.
2. Commemorative Coins
Does the coin collector have any other passions or interests? If so then a Commemorative Coin would be a great option. There are a lot of unique commemorative coins including those that relate to the military. The above coin is a World War I Commemorative Dollar Proof.
There are also presidential coins among many other options- you just need to search and see what comes up.
3. US Mint Proof Set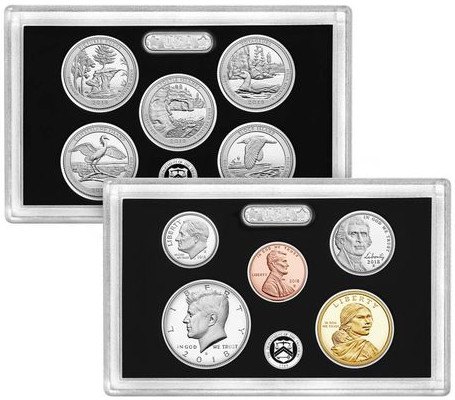 The US Mint puts out a yearly proof set. This set contain uncirculated/proof versions of all the US coins in circulation for that year. For example in the year 2018, you get the standard Lincoln cent, Jefferson nickel, and Roosevelt dime. You will also get five quarters from the America the Beautiful Quarters Program. These quarters feature landmarks such as Ellis Island in New Jersey among others.
The US Mints sells both silver proof sets and non-silver proof sets. The silver set includes the 90% silver dime, half-dollar, and quarters. It retails for about $50.
The non-silver proof set retails for almost half the cost, around $28.
4. Coin Value Book
We recommend A Guide Book of United States Coins. It's an annual book that give you the value of just about any US Coin since the 1600s. The book also provides you a coin's value for multiple grades.
You can also get other information about the coin including historical facts and mintage records. Photos are also provided.
Make sure you buy the latest edition because coin prices can change each year.
5. Coin Albums
Coin albums are essentially hardcover books with slots to store coins. It's a photo album but for coins. Each album relates to a certain type of coin. So for example you could have a book for Silver Eagles for the years 2013 to 2021. Another example is a book of Lincoln cents starting in 1975. There are many different options.
The state quarters album is one of the most popular albums. It's fun because you can find state quarters in your change and then put them right into your album.
6. Coin Safe
The best safes are those that are fireproof. Typically the large safes are the ones with the best fire protection. Smaller safes will usually be 'fire-resistant' which means it won't last in a long fire.
A coin safe makes a great gift because even if the collector gets tired of collecting coins, they can still use the safe to store their valuables.
This can be an expensive gift, depending on how big of a safe you buy. The small safes retail for around $50, the medium sized safes for $150, and the large safes go for around $400.
7. Jewelers Loupe
This is a great tool that can help you closely examine coins. The jewelers loupe is essentially a small magnifying glass that you can grip with your fingers or put on a keychain. It's a useful item to have because it can help you identify fake silver. You can use it around the house, or you can bring it to coin shops or coin shows.
The jewelers loupe also has other uses besides coins. As the name states, this accessory is great for examining jewelry and gemstones. Best of all, this item is very affordable. You can buy one new for only $5.
8. Gift Certificate
Just about every local coin shop will allow you to buy a gift certificate for store credit. This is a good option because it allows the collector to buy exactly what he/she wants or needs.
It doesn't appear that any of the large bullion dealers issue gift certificates. However if you do some searching than you may be able to find something.
9. Tickets to a Coin Show
If you live in or near a large city then there is probably an annual coin show in your city. Coin shows are fun events, especially the large shows where you can buy or sell coins to hundreds of different vendors.
If your coin collecting friend or family member has never been to a coin show, then you could gift him or her a ticket. Tickets are not expensive, but it depends on the specific show. The ticket cost will usually be in the $5-20 range.