The 1934 one dollar silver certificate is a common note. Therefore it's not worth as much as some of the other silver certificates. It has a unique look because it's the only bill with a large blue "one" printed on the left side of the bill.
The 1934 series is also unique because there are no suffix series. For example there is no 1934A, 1934B, etc. There is also only one signature pair, as every note is signed by Julien and Morgenthau.
They are nicknamed funnybacks along with the 1928 one dollar silver certificate notes. This is because initially people thought the back had a funny design. The font is different from previous one dollar silver certificate series.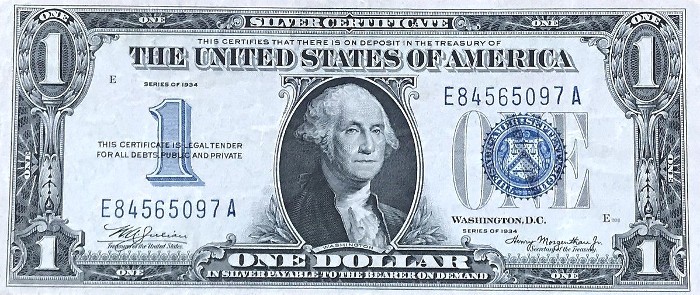 Specifications
| | |
| --- | --- |
| Denomination: | $1.00 U.S. Dollar |
| Series: | 1934 |
| Type: | Silver Certificate |
| Portrait: | George Washington |
| Varieties: | 1 |
How Much Is Your Bill Worth?
Although these bills are old, most of them just aren't very valuable. Many people saved them, and some people even saved them by the pack. However if you have a star note or a low serial number then your bill will be worth more money.
The 1934 $1 silver certificate is worth around $30 in very fine condition. In uncirculated condition the price is around $80 for bills with an MS 63 grade.
Star Notes
Star notes are easy to spot. They are bills that have a star symbol either before or after the serial number. Star notes are overprint notes that are more rare and more valuable.
The 1934 $1 silver certificate star note is worth around $200 in very fine condition. In uncirculated condition the price is around $600 for notes with an MS 63 grade.
Note: Valuable bills should be placed inside currency holders.
Grading System
Very fine- A note that has been in circulation but not for a long time. The note is still relatively crisp. There may be some creases, folds, or light smudges.
MS 63 choice uncirculated- A note that shows no signs of ever having been in circulation. The note still has its original crispness. The note is also well-centered.
Sources: