The 1805 Draped Bust large cents have value as numismatic coins. Keep reading to learn more about these coins.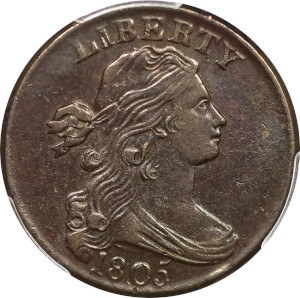 Specifications
Type: Draped Bust Large Cent
Year: 1805
Face Value: $0.01
Composition: Copper
Total Weight: 10.89 grams
There is no mint mark on this coin. Each coin was minted in Philadelphia.
| Series | Location | Quantity Minted |
| --- | --- | --- |
| 1805 | Philadelphia | 941,116 |
Value
The 1805 large cent is worth around $60 in about good condition. In good condition the value is around $90. In very fine condition the value is around $600. Coins in extremely fine condition can sell for around $2,250.
Grading System
About good- The details on the coin can be identified.
Good- The lettering is worn but clear. The date is clear. The bust lacks detail.
Very fine- Liberty's hair lines are slightly worn. The hair over Liberty's brow is more defined.
Extremely fine- The hair above Liberty's forehead and above her ear is outlined and detailed. There is only slight wear on the olive leaves.
Sources:
The Red Book
See also: